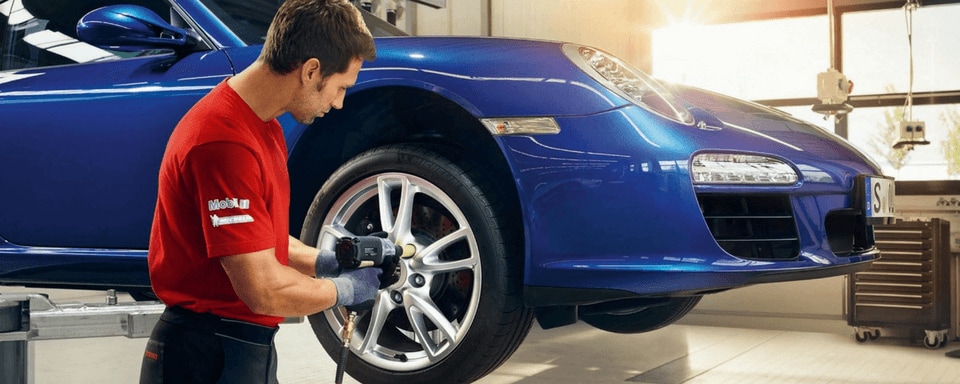 Why Do I Need To Rotate The Tires On My Porsche?
You need to rotate the tires on your Porsche to maintain even wear from front-to-back and side-to-side. The type of vehicle you drive, the side of the vehicle your tires are on, and also the way you drive, all affect how your tires wear down.
For example, a front-wheel-drive car uses its front tires for traction while accelerating, grip while turning, and 70-80% of its braking. The back tires are pretty much just along for a ride. As a result, the front tires wear down significantly faster than the ones in the rear. Rotating them will dramatically increase their lifespan.
You may have also noticed the left side of your vehicle is not identical to the right. Although engineers work hard to have perfect weight distribution throughout the car, it often has one side that is heavier than the other (like when you are driving alone.) This imbalance in weight also creates uneven wear on the tires over time.
When you rotate your tires you are ensuring they wear evenly which is critical in extending their lifespan. Uneven tires can also cause an imbalance in the way your vehicle runs, increasing the chance of an accident. It is essential you rotate your tires on a regular basis. Often uneven tire wear is not noticeable to the naked eye.
Taking some time to have your tires rotated by one of our expert service technicians can save you a lot of money down the road. Bringing your Porsche in for a tire rotation also gives our technicians a chance to check the tires for any improper inflation issues or other significant concerns. We suggest having your
oil changed
and
brakes inspected
then as well.
How Often Should I Rotate My Tires?
How quickly your tires wear down can vary greatly depending on the tire compound, your driving style, and the type of vehicle. For the most accurate assessment on when you should rotate the tires on your Porsche, we suggest giving one of our service advisors a call at 949-478-0590. If a cold and wet winter is approaching, it never hurts to have your tires checked out. A quick and easy tire rotation at Porsche Newport Beach could make a considerable difference in safely navigating treacherous weather.
Service Hours
Monday - Friday

7:00 AM - 7:00 PM

Saturday

8:00 AM - 4:00 PM

Sunday

Closed
What Type Of Tire Rotation Do I Need For My Porsche?
There are in fact a few different types of tire rotation patterns, depending on your vehicle and its tires. The rotation pattern depends on whether you have a front-wheel-drive car, if the tires are the same size, if the tires are non-directional, and if the vehicle is 4-wheel or all-wheel-drive. You may even want to rotate your spare tire if it is the same dimensions as the rest of your tires. Fortunately, you will not need to know any of this when you bring your Porsche in for a tire rotation. Our knowledgeable service technicians will know exactly what type of tire rotation your vehicle needs.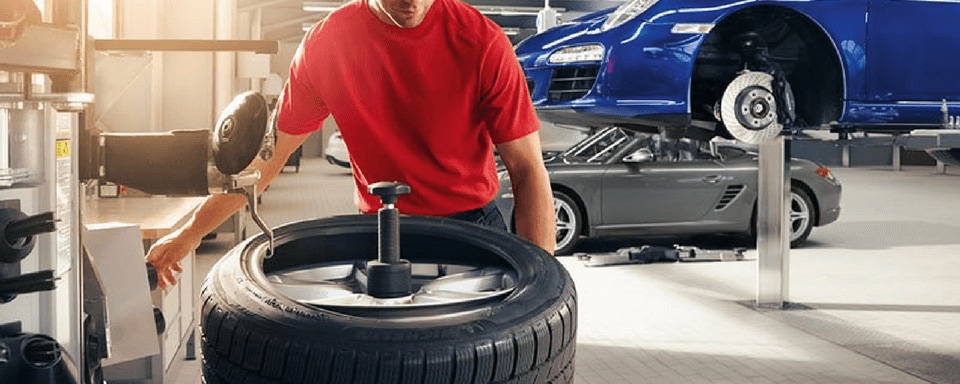 Schedule A Porsche Tire Rotation Appointment In Newport Beach Today
Rotating the tires on your Porsche car or SUV is something you need to get done on a regular basis. Porsche Newport Beach is dedicated to making the tire rotation process as simple and streamlined as possible. Whether you need your tires rotated before winter, or it is merely part of your routine maintenance schedule, we are here to help. Our service center has only Porsche factory tools engineered to work exclusively with your vehicle. Schedule a tire rotation at Porsche Newport Beach today and experience the next level of vehicle care.