How Long Do Porsche Brakes Last?
The brake pads on your Porsche will wear out over time, so replacing them is a necessity. Many factors can affect their lifespan and the frequency in which you will need to replace them.
The lifespan of your brakes depends significantly on the type of vehicle you are driving. For example, the brakes found in a performance-oriented sports car might have more stopping power but may wear out sooner than those found in a common sedan. Another significant factor in your brakes longevity is your driving habits. If you frequently brake hard and stop abruptly, this will cause your brakes to wear out more quickly. The type of driving you are doing will affect your brakes as well. Lots of stop-and-go city driving or heavy braking at a track will reduce your brakes lifespan. Lastly, the material and hardness of your brake pads (which often correlates with the type of vehicle) will also affect how long they last.
How Can I Tell If My Brakes Are Going Bad?
Any abnormal sounds or vibrations is almost always a sign that your vehicle's brakes have gone bad. You should always bring your Porsche in for a brake inspection the moment you notice something is not right. Your brakes have probably gone bad when you feel or hear:
A high-pitched squeal
A grinding or a hard growl
A general squeaking when you stop
Pulsation in the pedal
Low initial brake bite when applying pedal pressure
Steering wheel movement when braking
We highly recommend bringing your vehicle by for an inspection if you experience any of these situations. Brakes are the most critical aspect of your car when it comes to safety, and ignoring any potential issues could be costly. Our team of service technicians knows your vehicles braking system inside and out, and will always spend time making sure it is working correctly.
Service Hours
Monday - Friday

7:00 AM - 7:00 PM

Saturday

8:00 AM - 4:00 PM

Sunday

Closed
How Often Should I Replace My Brake Pads?
The most obvious way of knowing if it is time to replace your brakes is if you notice any abnormal sounds, such as a squealing or scraping noise. If you feel your vehicle shake when using the brakes, that could be a sign of warped rotors, which also means it is an excellent time to have them replaced. Generally speaking, your brake pads can last at least two or three years, and often longer. Like we listed above
in the first section
, many variables can affect how long your brake pads can last. These variables directly affect how often you should replace them.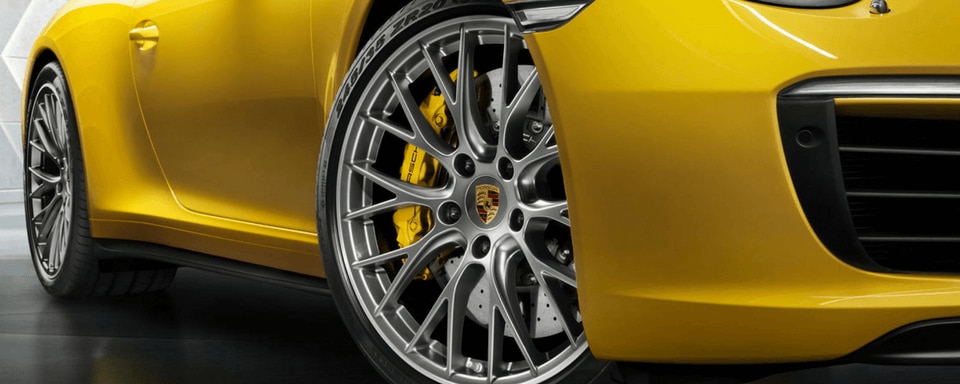 If you are still unsure, having one of our knowledgeable service technicians inspect your brakes is the easiest way of knowing if and when they need to be replaced. Because of the wide range of variables affecting your brakes lifespan, it is difficult to put an exact mileage number on when they need to be fixed. Quick tip: when you bring your vehicle in for a more routine
oil change
or
tire rotation
, request a quick brake inspection as well. The few extra minutes it takes for our service technicians to inspect your brakes could save you from any headaches down the road.
Brake Repair Near Me Newport Beach, CA
Schedule brake service at Porsche Newport Beach today and put your mind at ease. Our service center features only Porsche factory tools and OEM brake parts. Thousands of hours have gone into engineering your Porsche to stop perfectly. Repairing your brakes with the parts it was designed to use will ensure your vehicle will always stop correctly.
Brake repair and replacement should be part of your regular maintenance schedule. At Porsche Newport Beach, we are determined to make that a simple and stress-free process. Schedule an appointment at Porsche Newport Beach and experience a whole new level of vehicle care. We look forward to seeing you and your Porsche soon!